About us
Lillehammer Microbrewery is going to be a place for good experiences in an environment that reflects the city's cultural and industrial history.
We are located at the original premises of "Lillehammer Brænderi og Bryggeri" from the 1850s. This was the former farm-labor-place Hammer´n, belonging to Hammer farm – the origin of the town name Lillehammer. From our pleasant premises.
Lillehammer Microbrewery should be a place for good experiences in an environment that reflects the city's cultural and industrial history. But also, a place for exchange of good experiences. The original Lillehammer Brewery was closed down in 1983 and reopened in 2006 with the following concept:
Brewing of own beer (craft beer)

Serving of local food

Storytelling, including beer tasting

Cultural experience, concerts, lectures and more
We especially want to talk about innovation and development of the industry along the banks of river Mesna. River flows right through the city, giving the power to a variety of businesses. There is a lot of Lillehammer city's history that you will experience with us. And of course, we serve locally produced food with suitable drinks. The microbrewery has all required licenses.
The premises can accommodate 120 people in several different rooms. Brewery has unique decoration that gives guests the feeling of experiencing both physical and mental tastes of the city's history – from beer and food, over stories about the first copper-hammering to our times with the 17th Olympic Winter Games as a highlight.
The brewery song
Come and hear Tom Granlund and the Norwegian Male Octet performing their song about Lillehammer Bryggeri.
The brewery history
Lillehammer Brewery was established in 1847. In 1852, the business was expanded to brewing of "Bavarian beer". Lillehammer Brewery was a central company in Lillehammer for a period of over 130 years. In 1983, beer production came to an end, and after a few more years, a proud industrial history was finished. Lillehammer Brewery was reopened as a craft brewery and a cultural-historical pub / restaurant in 2006.
All our tables in the restaurant department have been given names related to local history of Lillehammer.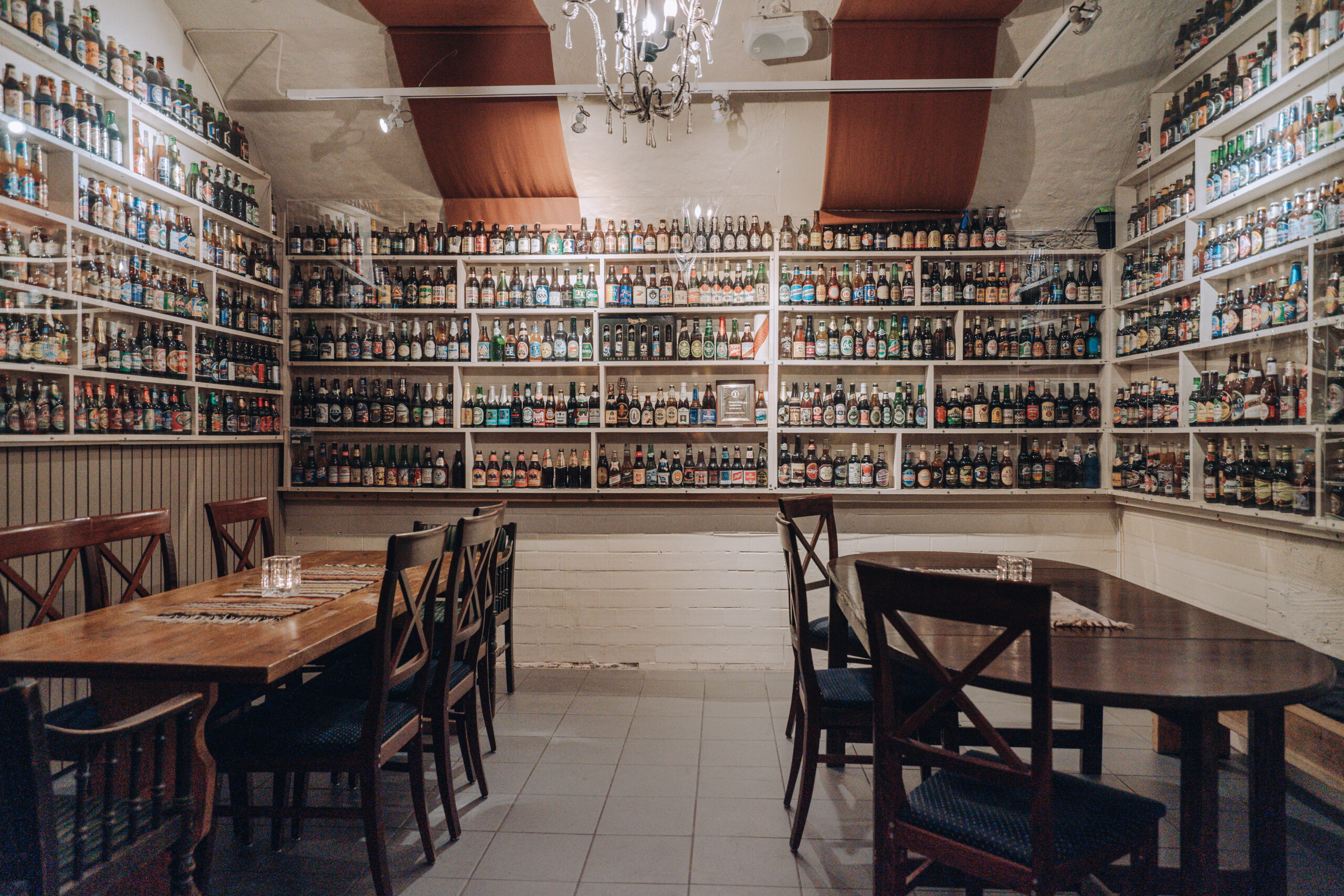 The bottle-room
See the unique beer bottle collection. It started with a collection given by Robert Gregusson. The collection consists of 1.000 unopened bottles from about 40 countries. This room is ideally suited for groups of five to fifteen people.
Skibladnerbordet table
Steamship shipping on Lake Mjøsa began in the first half of the 19th century. In the summer of 1840, Norway's first iron steamship, the Jarnbarden (Iron Bard), was launched on Lake Mjøsa. The launch of Jernbarden led to a communication revolution for the Mjøsa area. This helped to accelerate urban development around Lake Mjøsa. In 1856, Skibladner was put into service. At that time, this was Norway's most modern and fastest vessel. Today is a Skibladner the world's oldest wheeled-steamboat in operation.
The energy-table
The Mesna River has, for several centuries, been a source of energy for the people who live in the area. In 1885, a local goldsmith (Frisenberg) went to Antwerp and exhibited his work at the major exhibition. There he got to "see the light", and returned to Lillehammer thrilled with what he had seen. He understood that we also had great opportunity to easily produce electricity if we used the Mesna river. The initiative was not warmly received by the local authorities, but in 1894 one of Norway's first power plants was put into operation, and in connection with the railway opening in the autumn of 1894, the electric light from the power plants was used all over.
The industrial-table
Industry was established very early along the Mesna River. The first industrial enterprise, a copper factory that mainly produced stows/owens, was established in the current brewery area in 1755. For the men behind the copper factory, it all ended sadly. In 1758 they were executed on Gammeltorvet in Copenhagen. Throughout the 19th century, several factories came into life. First out of them was Mesna Bruk which was established in 1814. In 1847 the distillery was established and then the brewery. Eventually, a number of companies increased. The largest company in the 1800s was the cotton spinning mill. Among other things, many poor single mothers and children worked here. Throughout the 20th century, Mesna carton-factory became Lillehammer's largest industrial company. This factory was closed down long time ago, and has, today, been transformed into Strandtorget shopping center.
The culture-table
For a long time, Lillehammer has been known as a gathering place for cultural figures who have left their mark on the local community. In the late 19th century, a number of painters, who found interesting motifs, began to arrive in and around Lillehammer. From 1927, Lillehammer gets a significant collection of paintings. In connection to the Olympic Winter Games in 1994, this was extended into Lillehammer Art Museum, which is today one of the Norway's leading art museums. Area also has two well-known poetic homeplaces.  Aulestad in Gausdal, which from 1875 was a home to Bjørnstjerne Bjørnson, and Bjerkebæk in Lillehammer which in 1917 became the home of Sigrid Undset. Both of them were awarded the Nobel Prize in Literature. Lillehammer is a host of largest annual literature festival in Norway.
The dining-table
The Lillehammer district is rich with elk which played an important role as food source for the people who have lived here for several thousand years. The proof of location is given in an over 6000-year-old petroglyphs found in Drotten by Gudbrandsdalslågen, just north of Fåberg town. Lake Mjøsa is, and has been extremely rich with fish. From ancient times, there has been extensive fishing of big trout, whitefish, and lowland herring. Gudbrandsdalen is known by extensive cheese production. In 1925, the Lillehammer carpenter Thor Bjørklund invented a cheese knife, which now stands on the table of every Norwegian.
Pipe-Larsens table
Gudbrand Larsen's pipe factory was established in 1844 in Lillehammer. This company, which produced high-quality smoke pipes, often with beautiful carvings, eventually became Norway's most famous pipe factory and Lillehammer's first known international brand.
The craftman's table
This table is for members of Lillehammer Håndverkerforening / Association of craftsmen. The association was founded on April 27, 1901, when the town's masters, travelers and apprentices came together to form an association which wil take care of the craftsmen's needs and speak on behalf of them. The association's most important tasks are to connect the crafts in Lillehammer and work in order to create the best possible collegial and friendly spirit. If you are a master craftsman or commercial leader of a craft company in the region, you are most welcomed as a member of the association. If you have questions or want to become a member of the association, contact Lillehammer Håndverkerforening.